GOOD AT DRUGS by KKUURRTT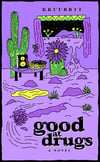 Currently only available on Amazon. Click here to order.
Fiction
Pages: 250
Format: Paperback
Cover: Soft cover
Cover Type: Gloss, haha yeah - fuckin' GLOSS, shining, beautiful..
Author: KKUURRTT
Publisher: Back Patio Press
Available on Amazon for international shipping too!
The last American music festival. Psychedelics, nose drugs, and house music. Except this time something feels different. Not sure what? End of the world? Drug-induced conspiracy? Nah.
An adventure in the mind of an adventurous mind. Tripping, rolling, and dissociating through the musical and/or pharmacological ropes course that is a three day music festival.
"Good At Drugs is a garrulous book full of despicable characters, unabashed heathenism and the nearly unintelligible ramblings of a degenerate drug abuser on the cusp of a midlife crisis. In short I wish I had the talent and experience to write a novel as pure and beautiful myself." - Steve Anwyll, author of Welfare
"Good At Drugs is a porta potty of reckless living -- a beautiful, never-ending, substance-abused nightmare of shitty music festivals, shitty rave, and shitty people. Think Fear and Loathing at Coachella. It reads like drugs because KKUURRTT writes like drugs. Lick this blurb -- does it taste like drugs? FFUUCCKK YYEESS." - Brian Alan Ellis, author of Bad Poet
"An intense trip through the throbbing fringe-culture of music festivals and the colorful characters who devote their life to four-on-the-floor concussive sound waves and mind-altering substances passed freely from hand to mouth to butt [...] KKUURRTT is the funniest person I know and this book is overflowing with that humor. A belly laugh on almost every page." - Tex Gresham, author of Heck Texas